What ever happened to Blind Matzoh Leftkowitz? - $17.50
Rick Ruskin returns to his roots and presents with complete honesty and reverence, yet in his own unique style, a full CD of traditional and original blues. Read the story of Blind Matzoh Leftkowitz now.
The Program:
Hesitation Blues
Come On In My Kitchen
Death Don't Have No Mercy
Walkin' Blues
Trouble In Mind
March of the Blues Guitars
JFC Blues
Born Under a Bad Sign
Strut Yo Stuff
Me and the Devil
I Will Do My Last Singing In This Land
Hear clips/download MP3's from: CD Baby NOW!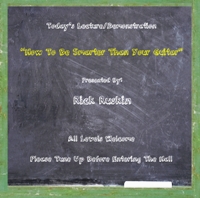 How To Be Smarter Than Your Guitar - $13
The traditional sound of acoustic finger-style guitar in front of decidedly non-traditional musical settings. Not "New-Age" as it is currently defined, but most definitely new, and as with all of Rick's work, unique and melodic. Some vocals have been included in this collection as well.
The Program:
7 Come 11
All Tapped Out

R

ight Into The Arms

H

ome Is Where The Heart Is
Jekyll & Hyde
D.I.B.S.
Old Fashion Passion
Under The Big Top
Till The Pillow Meets My Head
Delilah
The Miller's Wheel
A Queensland On The Loose
Short Subjects
Hazardous To Your Health
Hear clips/download MP3's from: CD Baby NOW!
---

This is the recording that Rick Ruskin fans have been waiting for. The album contains 25 selections - 17 from Rick's three ground breaking Takoma Records releases, RICHARD RUSKIN, MICROPHONE FEVER, AND SIX-STRING CONSPIRACY plus 8 duet and ensemble pieces from his legendary ON THE CHEAP LP.

It's a CD everyone will enjoy regardless of musical tastes.

RELEASED FOR DOWNLOAD ONLY. Get it through iTunes. CLICK HERE
---

Perfect Pitch

, Lion Dog Music (CD only) $17.50

Rick's first new solo recording since 1997, featuring 11 instrumentals and 3 vocal tracks all with that unique Ruskin touch.. Get one for yourself and a few more for friends!

All Thumbs
Annie
Mysterious Kiss
Leave It To Your Friends

Turn The Page
Jamaican Graduation
You Make Me Nervous
Show

'

Em

The Money
Time

'

s Out
Papa Played The Fiddle
---
The Gospel According To Rick Ruskin & Vivian Williams

,

Lion Dog Music (CD Only) $17.50

A unique collection of well known Gospel tunes arranged as Guitar and Fiddle duets performed by Rick and Pacific Northwest Fiddle Champion Vivian Williams.

Jesus Loves Me

Amazing Grace

Swing Low Sweet Chariot

Farther Along

What A Friend We Have In Jesus

Children Go Where I Send Thee

Joshua Fit The Battle Of Jericho
---
Solo:

Once Upon a Time, Lion Dog Music (CD

only

) $17.50

A compilation of previously released recordings spanning my 1st Takoma Records LP release through "Turn The Page, a 1990 CD that came and went on Beechwood Records. All selections have been meticulously restored, re-mixed, and re-mastered The program is as follows:

Lost In the Desert
Repeat After Me
Whispers
California Girls
Good Vibrations
I Can't Tell You Why
Josie
Riki Don't Lose That Number
40 Yards Back

Gershwin Prelude
Blue Monk
Sweet Georgia Brown
Georgia Camp Meeting
You Won't See Me
Here, There, & Everywhere
Temptation Rag
Slow Drag
Life Is Within You & Without You
Here Comes The Sun
---
Words Fail Me, Lion Dog Music (CD only) $17.50



Rick's solo CD from 1997 featuring all original compositions. A must have.
---

Words Fail Me/Once Upon A Time 2pack, Lion Dog Music
Save 10%, just $31.50

Duets:
---
---
Acoustic Fingerstyle Guitar; Video Progressions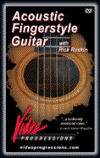 Rick Ruskin's remarkable style captures all the nuances of a band/rhythm-section and transforms the parts into amazing, in-the-pocket fingerstyle grooves like you've never imagined on a single guitar! Split-screen video format covers: right- and left-hand technique, walking bass and counterpoint lines, open-voiced triads, simultaneous bass/rhythm/lead parts, pedal-steel effects, double-stop bends, harmonics and more. The techniques are immediately put to use in extraordinary instrumental versions of: Rikki Don't Lose That Number (Steely Dan), Georgia On My Mind, and four originals, each in standard tuning. His meticulous blow-by-blow analysis of each phrase is loaded with variations and insight that show how to transform the essence of any tune into dynamic arrangements of your own. Truly an important work that should not be missed! Click the links to view the video clips.
Running Time: 120 minutes Musical notation & tab is printable from the disc (DVD-ROM) and included with the VHS version.
DVD $32.00 (Postage Included for US Domestic Orders Only)

VHS 17.50 (Postage Included for US Domestic Orders Only)
---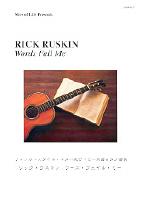 Words Fail Me - Guitar Transcription Book
Back by popular demand! This complete book of note-for-note TAB/notation transcriptions from the Words Fail Me CD has just been re-issued. Hurry before this limited edition is sold out!
BOOK $30.00