"...the detail and precision of Ruskin's playing are well known among fingerpickers..." - Guitar Player
Welcome to Lion Dog Music
Rick Ruskin's Official Website
Rick Ruskin has been playing and producing since the early 70's. His discography spans over 20 releases beginning with his first album on the Takoma label. He tours the United States regularly and performs locally in Seattle often. Rick runs a full service recording studio, Lion Dog, where he produces and records his music and others. He's a frequent contributor to magazines such as Fingerstyle Guitar and Frets. He is now endorsing and is the Pacific Northwest sales representative for pro audio gear for studios.
NEWS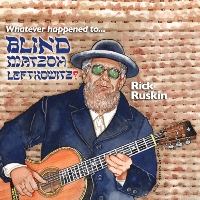 NEW RELEASE - Rick's new album, Whatever Happened to Blind Matzoh Leftkowitz is available now. Read the story of BML and order your copy or download it now.
RECENT SESSION WORK - I am pleased that I was able to take part in the making the CD, All Wood and Doors, by James Lee Stanley & Cliff Eberhardt.
HITTING THE ROAD - Rick is about to embark on his California Tour. CLICK HERE for dates.
---
Watch the new video JFC I've got the blues
WARNING! This video contains explicit language and images of satirical & controversial nature.
---
PRIVATE INSTRUCTION AVAILABLE
Contact Rick Directly For Information & Pricing of In-Studio or Custom CD Lessons.
Email: liondog@isomedia.com
---
BOOK RICK RUSKIN
Rick is available for Concerts, Clubs, & Workshops
Email: liondog@isomedia.com
---